To relax and have a good night
Feel at home in our comfortable and tastefully furnished rooms and  enjoy the friendly atmosphere around the Arielle Guest House. Rooms are equipped with a bathroom, small balcony, satellite TV and free WI-FI-access, to make you feel at home.
Rooms and all areas of the Guest House are non-smoking. Smoking is only permitted in the gazebo.
The four guest rooms in the main building have a shared, well-equipped kitchen at their disposal. You have use of a two-stage hot plate, refrigerator and freezer, a microwave, a kettle and a toaster. There are also pots and pans, plates, glasses, cups and cutlery in the cupboard.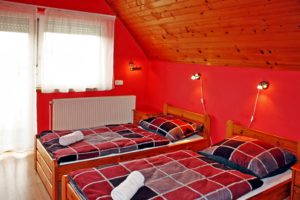 Twin room
With two twin beds (90 x 200 cm) separately or beside each other, there is room for 1 or 2 guests. There is a wardrobe (with shelves and a hanging area) and a small suitcase rack. One room comes with a desk. From the balcony you have a nice view of the town.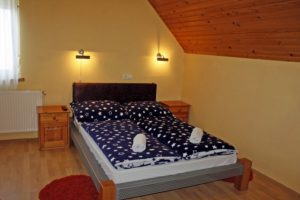 Double room
Has a 140×200 cm double bed, for one or two people. There is a mirrored wardrobe (with shelves and hanging area) and a shelf computer desk.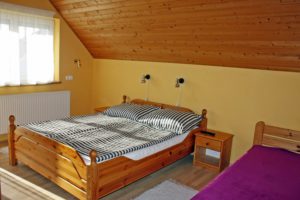 Family suite
For up to 5 people. Ideal for a family with kids or a group of friends. The family suite consists of two bedrooms and a bathroom. In one of the bedrooms there is a queen bed (160 x 200 cm) and a twin bed. The other bedroom has two twin beds. There is a big wardrobe and a small baggage holder in each room. There is also a mirror and a flat-screen TV in both rooms. From the balcony you have a view of the garden.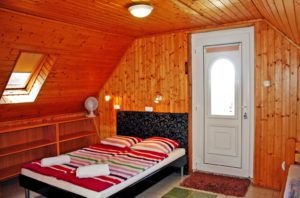 Apartment
The apartment is 23 m2, with a bedroom-area, a kitchenette and a bathroom, for up to 3 persons. There is a double bed (140 x 200 cm) and a twin bed, shelves and a flat-screen TV. The kitchenette has 2 hot plates, a fridge, a microwave and a kettle, as well as pots, plates, glasses and cutlery. Standing in front of the main door you have a beautiful view of the garden, the valley and the distant mountains, while the backdoor leads to a common terrace.